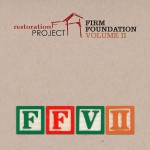 This gallery contains 1 photo.
It's release day! Firm Foundation, Vol. 2 – EP by Restoration Project https://itun.es/us/9E2z3 #resproj #ffhymns
I am so excited to announce the launch of a Kickstarter campaign for a group I've had the privilege of being a part of for over five years now. Restoration Project is a hymn-writing collective that writes new, and restores old, Christian hymns. My friends and I like to say that we are "making hymns new again."
Using Kickstarter.com, we hope to raise $10,000 to write, record, manufacture, and distribute a new series of "Sunday School hymns" based on many of the originals still sung in churches today. The minimum two-album series will feature songs like "This Little Light of Mine," "Jesus Loves Me," and "Michael Row Your Boat Ashore."
Just last week, we finished up our project video (below).