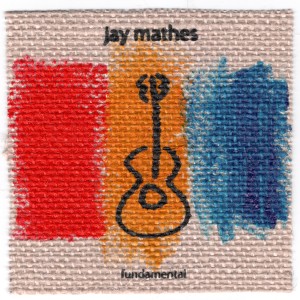 Track List
1. Turn
2. Orphans
3. Only Words
4. Broken Well
5. Jump
6. Jeremiah's Song
7. Lips and Lines
8. Welcome
9. Politician
10. For Nothing
11. So Far
12. Gold
13. Happy Birthday
14. One-Track
15. Proud Ship
About the Album
Released in November, 2010, Fundamental is an all-solo/acoustic, live, in-studio performance recording, featuring 15 of Jay Mathes' newest songs. On this record, Mathes continues to obsess over topics like unfailing love, the redemption of humanity, and the pursuit of dreams; but here, for the first time, we also see a darker side: his difficulty to forgive himself for things long since passed, feelings of nagging inadequacy, and desperate longing to find a sense of belonging. In short, Fundamental is a living record, true to life, speaking to common struggles, but also to signs of victory. Mathes lays bare his heart and it is messy and beautiful and broken. From first strum to last vocal inflection, Fundamental leaves us pining for some mysterious, ancient, long-awaited-for resolution – both in our own, small hearts and in our world.
In Jay's Own Words
This record represents the first time that I have set out to capture recordings of my newest songs in their simplest forms and give them to you – those who ask me at shows, "Which album is that song on?" The purpose of this album is to fill the gap between the new songs that I perform live and the songs on my next, full-production release. This is a live, in-studio recording, performed on Monday and Tuesday, September 13th and 14th, 2010. It was mastered on Monday, September 20th, 2010. Enjoy every song the way that it was birthed – with acoustic guitar and voice – and, for many songs on this album, in its first public performance.
Special Thanks
To my wife, my son, and the rest of my family, who continue to support me and allow me to make music. To Jay Thomas, for reminding me that there are more important things in life than expensive guitars. To Nick Gray, for all of his hard work and mad video skills. To Ashley Hodges, for the excellent studio pictures. To Gary Stanton, for your continued partnership and for pushing me to write a better song than the last. To Michael, Dave, Josh, David, Daniel, Peter, Joel, Chris, Andrew, Alex, and the rest of my brothers, for your friendship and inspiration.
Credits
All songs written and performed by Jay Mathes
Produced and mixed by Wes Kosakowski and Jay Mathes
Engineered by Wes Kosakowski
Recorded live at Catfish Studio, Lombard, IL
Mastered by Collin Jordan at The Boiler Room, Chicago, IL
Graphic design and concept by Jay Mathes
Early editions are hand-painted and screen-printed by Jay Mathes
Performing rights administered by BMI, Inc.
Copyright 2010 Jay Mathes Music / Swiftly Running Records
Jay played an Olson guitar with Martin strings on this record