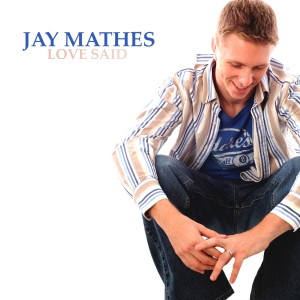 About the Album
Release on February 3rd, 2006, the Love Said EP features six love songs written by Jay Mathes. Love Said is Jay's first, post-college release, and demonstrates a new-found command of music production. The stand-out track on the album is the song "Commit", written in anticipation of Mathes' future marriage. Love Said is an album all about saying I love you through the universal language of music, which Mathes so skillfully does in his writing.
Special Thanks
I would like to thank all of the people who have made these songs and recordings possible. To my wife – I love you just the way you are, to my very best friend Dave and his family, my family – Ani, Mike, Mom, and Dad, to all my brothers and sisters at College Church in Wheaton, my good partner Katie Conlin for her countless hours, the band – Gary, Joel, and Karl, to Sheri – for your inspiration, to Josh Ahlgrim – for your sincerity, to Andrea – for coming to more shows than anyone (except Megan and my parents), to Brian Hogan and Holly DeRuyter and the Columbia IV crew, to my friends at Columbia College – Saima, SooHyun, and the AEMM Department, Kimo Williams and Columbia College Chicago – for use of their recording equipment, to my professors in the music department – Frank Dawson and Philip Seward, to Ross Heise – the BMW is on its way, to our special wedding guests last June 25th, and to the rest of my friends – too many to mention – you are all a part of who I am, which is the music I write. Soli Deo Gloria.
Credits
Songs written by Jay Mathes
Guitars, vocals, piano, and sequencing by Jay Mathes
Background vocals on tracks 1, 3, 5 and 6 by Michael Mkrtschjan
Produced, engineered, and mixed by Jay Mathes
Recorded at Jay s Chicago Apartment
Mastered by Mike Moritz at MMM…Tasty! Studios
Photography by Marta Sasinowska
Graphic Design by Jay Mathes
Performing rights administered by BMI, Inc.